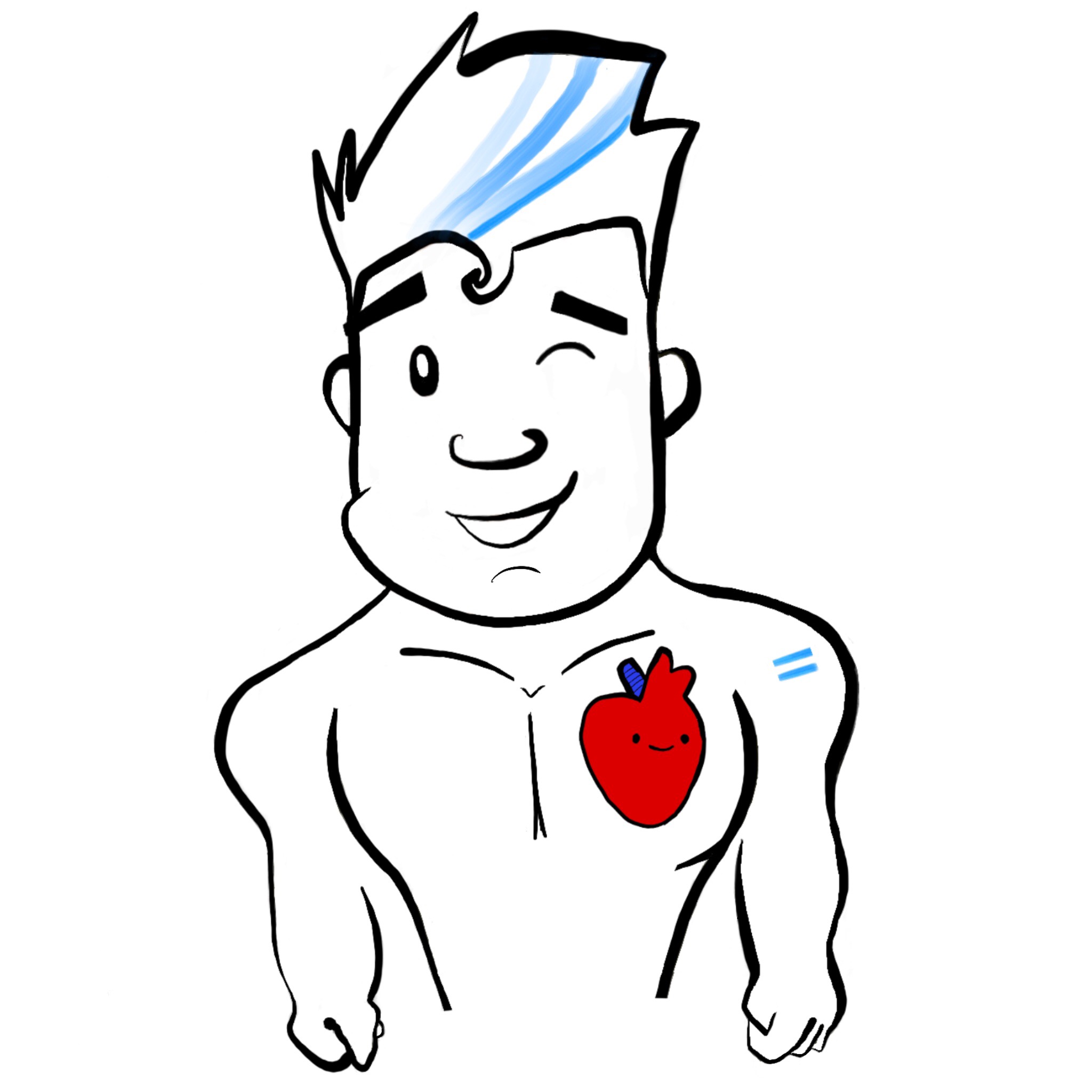 Heart attack refers to a critical loss of blood flow to the heart muscle resulting in part of the muscle dying. The heart is essentially a four-chamber pump composed of muscle that contracts to circulate the blood. Like all active muscles, the heart needs a steady supply of oxygen delivered in the blood. Blood is delivered to the muscular walls of the heart by three arteries known as the coronary arteries. If there is hardening of the arteries (atherosclerosis) they can become narrow and less blood can flow to the heart muscle. During exercise, as the heart beats faster, the narrowed arteries cannot deliver enough oxygenated blood and the heart muscle begins to hurt, this is called angina. If one of the arteries is blocked completely no blood will get to the portion of the heart muscle fed by that artery. Without oxygen from the blood that portion of the heart muscle will die
A heart attack is perceived as pain and discomfort in the chest. The pain may feel tight or heavy, and is often described as "an elephant sitting on my chest." The pain may also extend down one arm, usually the left, or up into the jaw. Unlike angina, resting will not make the pain subside. Along with chest pain, people having a heart attack may also experience other symptoms such as nausea, indigestion, shortness of breath, light-headedness, feeling clammy, or excessive sweating.
A physician is the only person who can diagnose a heart attack. The diagnosis is based on symptoms, a blood test, and an electrocardiogram (ECG; done by placing wires on your chest).
A heart attack is a medical emergency and requires immediate attention; as time passes more of the heart muscle will die. If you think someone is having a heart attack, call 911 immediately. Check the person for a pulse, either at the wrist or at the neck next to the windpipe. If you cannot feel a pulse, start chest compressions (CPR) and consider using a defibrillator if one is available.
Treatment of a heart attack begins immediately with nitroglycerin (to try and open the arteries), oxygen, and aspirin. In the emergency department doctors may give special "clot busting" medications to dissolve the blockage in the artery and restore blood flow to the heart muscle. Patients may also be taken directly for cardiac catheterization. During cardiac catheterization a heart specialist (a cardiologist) introduces a tiny "tube" into one of the arteries in the groin, and then threads the tube up to the coronary arteries in the heart. By doing this, the cardiologist is able to physically open the blocked artery.
A healthy lifestyle is the first step in helping to prevent a heart attack. If you smoke, it is important that you quit. Your doctor can help you with this. A low fat diet is also important, with less red meat and more vegetables and fruits. You can also improve overall blood circulation through regular physical activity.
The medical term for high blood pressure is hypertension. It is a measure of how much pressure your blood is putting on your blood vessels. It is kind of like the water pressure in your tap; if the pressure is too low not enough blood will reach your organs, if the pressure is too high it will damage your blood vessels. The damage caused by prolonged hypertension can lead to heart attack, stroke, and kidney failure.
Blood pressure is composed of two numbers; the higher systolic pressure, and the lower diastolic pressure. When your heart beats, it contracts to pump blood through the arteries. This creates a pressure wave and is measured as the higher systolic pressure. When the heart relaxes, the pressure in the arteries temporarily drops. This is measured as the lower diastolic pressure. You can feel these pressure waves as your pulse. A normal systolic pressure should be around 100-120, and diastolic pressure should be around 70-80. Systolic pressures between 121-139, and diastolic pressures between 81-90 should be closely monitored. Systolic pressures of 140 and above or diastolic pressures of 90 and above are classified as hypertension and require treatment.
High blood pressure usually has no symptoms, and so can persist undetected for some time. Even without symptoms, high blood pressure can damage your arteries. Thus it is important to have your blood pressure checked from time to time. Some people with very high blood pressure may develop headaches or shortness of breath.
Blood pressure is easy to measure using a blood pressure cuff. This can be done by a nurse or a doctor; many pharmacies also have automated blood pressure cuffs. Blood pressure varies over the time of day and with activity level, it is best to measure your blood pressure on several occasions to detect a consistent pattern. You should avoid measuring your blood pressure when you are stressed, anxious, or pressed for time.
High blood pressure is treated with medication. There are several different medication options, so talk to your doctor about which might be best for you.
If you have high blood pressure there may also be a number of things you can do to lower it naturally. Physical inactivity and being overweight can lead to hypertension. Too much sodium in your diet, nicotine in cigarette smoke, alcohol, and feeling stressed and anxious also cause high blood pressure. Some party drugs, like cocaine and amphetamines, cause serious increases in blood pressure. Thus a healthy lifestyle is your best defense against high blood pressure. Exercise regularly and eat a diet low in fat and sodium. Consider losing weight if that is appropriate. If you smoke, quit. And make sure you have some down time to relax that does not involve alcohol or party drugs.