The two medical terms for your balls are "testicles" and "testes". As you well know, they are located in your scrotum, or ball sack, that hangs below your penis. The size of our balls varies slightly between guys, but they are on average 5 x 3 x 2 cm. It is common for one ball to be slightly larger than the other, and for one to hang slightly lower than the other. How low our balls hang also differs between guys, and is controlled primarily by a muscle known as the cremasteric muscle. When we are warm, or during a hot shower or bath, as well as when we are relaxed, the cremasteric muscle relaxes and our balls hang loose. In contrast, when we are cold or active, the cremasteric muscle contracts and pulls our balls up closer to our penis. Our balls also pull up during orgasm.
Our balls have two important functions, to produce sperm and to produce testosterone. Sperm are produced in each testicle and are then moved to the epididymis, a tube that lies along the backside of the testicle, where they mature. From there, the sperm leave your balls and enter the vas deferens before they are pumped into your urethra during ejaculation.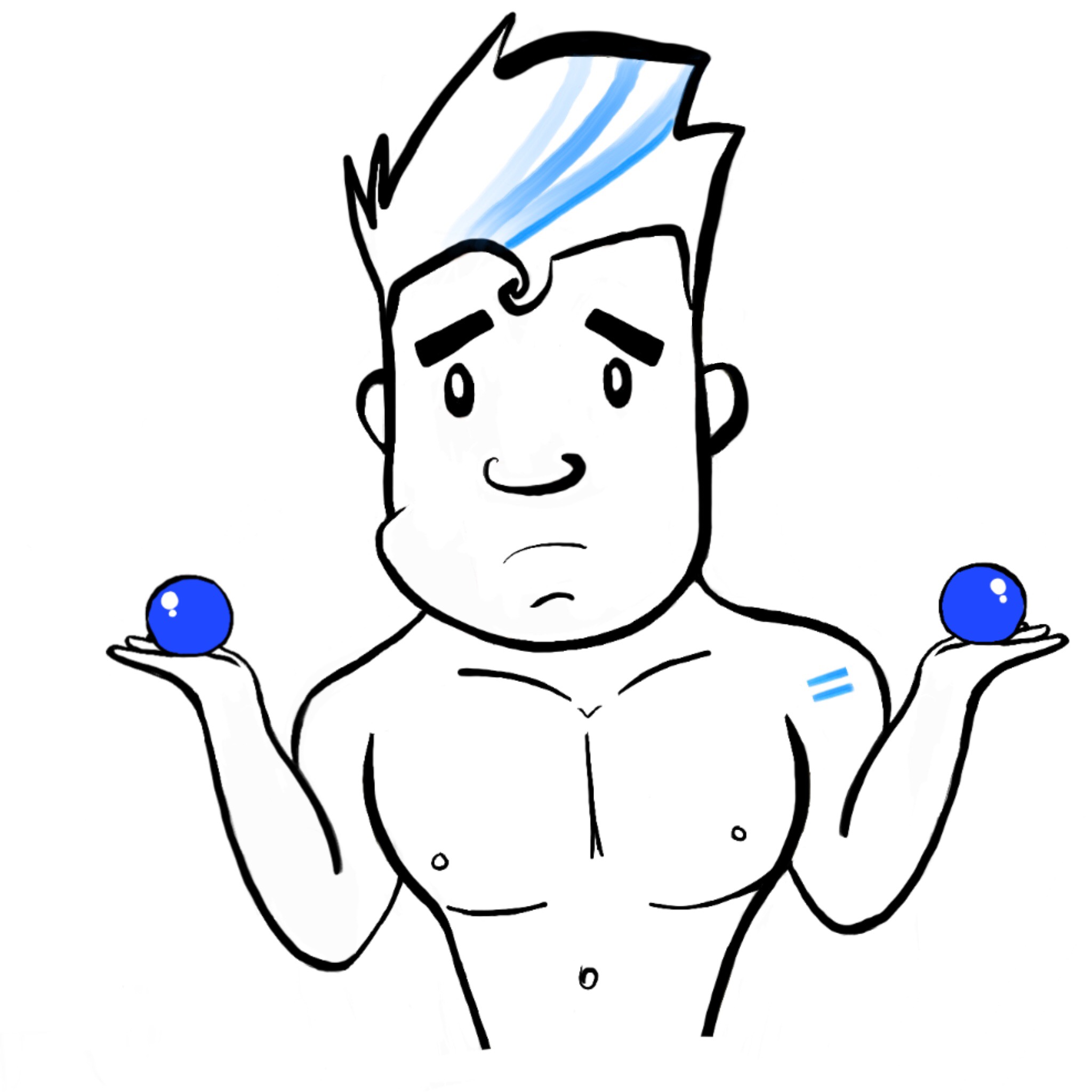 Most guys are pretty familiar with their balls and scrotum. Hey, it feels good when we, or someone else, touch them. But it is still a good idea to check your balls periodically for any abnormal lumps or bumps. By doing this regularly you will become familiar with the normal size and shape of your balls, and so more likely to tell if something new develops.
The best time to check your balls is first thing in the morning while you are still warm in bed, or after a hot shower. Then your scrotum is most relaxed and it is easier to feel your balls. Check each testicle separately. Using both hands, place your thumbs on top of your ball, and your index and middle finger under your ball. Roll your ball between your fingers and feel along the surface. You should be able to feel the epididymis, the tube that collects sperm from your testicle, as a soft tube along the back of each of your balls. You can feel the head of the epididymis near the top of your ball at the back. This is a normal lump. Otherwise, your balls, along the front and sides, should be smooth. If you feel any abnormal lumps, like a grain of rice, or any sore spots, see your doctor.
Some things you may find when checking your balls:
Hydrocele
Spermatocele
Varicocele
Testicular cancer
Hydrocele
A hydrocele is just a collection of fluid around the testicle.  You may first notice a swelling of the scrotum that comes on slowly and usually is not painful.  It can also occur acutely, as a result of trauma or injury.  The fluid collection is often a small amount, but can be quite impressive as well.  Although some men find this looks great in their speedo, others find it quite uncomfortable at the gym, cycling, running, etc. 
Of course most guys worry about testicular cancer when they find any kind of lump around their balls.  A hydrocele is not cancer, but rarely, one can occur due to the presence of cancer.  See your doctor, as a simple ultrasound will determine if this is just a simple common hydrocele or something worse.
In terms of treating a hydrocele, it's really up to you. Does it bother you or cause you discomfort? Maybe it causes too big a bulge in your speedo and you want it fixed? If so, your doctor can refer you to a Urologist who can do a small day surgery to fix it.  Just remember guys…see you doctor and get that ultrasound done!
Spermatocele
Varicocele
Testicular cancer
Testicular cancer occurs when certain cells in the testicle begin to grow abnormally and form a small tumor. On the positive side, testicular cancers are rare. On the downside, they can grow quite quickly, so it is important to see your doctor immediately if you feel a lump on one of your balls.  Most testicular cancers occur in guys 15-29 years of age, and begin as a small, painless lump on one of the testicles. The testicle itself may feel sore, and you may have a dull ache in your groin. Although it starts in the testicle, testicular cancer can quickly spread or metastasize through the body. A few weeks waiting can make all the difference in treating this cancer before it gets a chance to spread outside the testicle.
If you feel a small, hard lump on one of your testicles, or one of your testicles feels sore, see your doctor right away. Your doctor will do some blood work and order an ultrasound of your scrotum.  If the lump looks like it might be a tumor you will need to see a Urologist right away to have the testicle removed.  The testicle will be sent to the lab to be looked at under the microscope.  This determines the type of testicular cancer, and whether or not you need further treatment such as chemotherapy or radiation. You will also need to have a CAT scan to see if the tumor has spread.
It is so important that you check your balls once a month for any new hard lumps, just like women check their breasts for lumps.  This is best done first thing in the morning or after a warm shower, when your scrotum is relaxed and your balls are hanging loose. Feel the contour of each of your balls for any small lumps, like a grain of rice. Although it may feel weird to have your doctor check your balls, if you find a suspicious lump on one of your testicles you need to get it checked right away. 
Testicular cancer is treatable and has one of the highest cure rates of all cancers, but early detection is the key! Treatment involves surgery to remove the testicle where the cancer is found along with lymph glands in the abdomen, as these glands are the first place the cancer will spread. Surgery is usually then followed by chemotherapy. For some forms of testicular cancer, radiation therapy may also be used. Talk to your doctor and care team, they will explain the full treatment plan to you. Throughout the experience remind yourself that when caught early testicular cancer is virtually 100% curable. After treatment your doctors will keep a close eye on you through regular follow ups to ensure that there are no signs the cancer has come back.
While the benefits of getting rid of the cancer are clear, when it comes to surgery most guys are understandably upset about losing one of their balls. This can make guys feel anxious and perhaps emasculated. After removing the testicle with cancer, your surgeon can, if you want, replace it with a prosthetic testicle. These are usually made of silicone and have a similar weight, shape, and feel of a natural testicle. Having a prosthetic testicle will help maintain the appearance of your scrotum, and usually make guys feel more "natural" when they look in the mirror. It is also important to remember that while we may have two balls, we only need one. With one testicle, you will still enjoy sex, ejaculate, and produce as much cum as before. The remaining testicle will also produce the testosterone you need to maintain muscle mass, sexual arousal, and your overall sense of well-being and masculinity.